Background
University of California Agriculture and Natural Resources division has led the way nationally in the development and testing of the "plate" approach to nutrition education. Several years ago, California Nutrition Specialists and NFCS Advisors, developed and tested a graphic almost identical to MyPlate. Advisors also developed and pilot tested a "plate" intervention. Through this work, the team determined that pictures of plates containing real food would make it easier for participants to understand the concepts of variety and portion size.
Commonly eaten foods were identified from a review of CA EFNEP 24-hr recalls (n=165). These familiar foods were put into "plate" proportions (½ plate fruit and vegetable, ¼ plate protein & ¼ plate grains) and adjusted based on feedback from low-income adults (n=227).  Professional photographs were taken of 26 different meals (breakfast, lunch and dinner) for adults and children. A graphic designer incorporated the photos with messages to create education materials ranging from meal cards to posters. The education materials and mini-lessons were pilot tested with low-income parents (n-41) with young children.
More information is available in this journal paper about the My Healthy Plate project:
Shilts MK, Johns MC, Lamp C, Schneider C, Townsend MS.  A Picture is Worth a Thousand Words: Customizing My Plate for Low-literate, Low-income Families in 4 Steps. J Nutr Educ Behav. 2015;47:394-396.
Mini-Lessons
Five My Healthy Plate mini-lessons (10-15 minutes each) have been developed to be used with ESBA. The mini-lessons are learner-centered and incorporate posters, meal cards, handout, placemat, and goal sheet. It is recommended that the educator select the MHP mini-lessons most relevant to the target audience. All five lessons do not need to be taught. It is important however to include the MHP Introduction lesson before any of the other mini-lessons are delivered.
My Healthy Plate Introduction goes with any ESBA lesson
Meal Planning Made Easy goes with ESBA Plan, Shop, Save!
Eat More Fruit and Veggies goes with ESBA Vary Your Veggies… Focus on Fruit
Eating Out with My Healthy Plate goes with ESBA Make a Change
My Healthy Plate & Kids goes with ESBA Celebrate
Downloadable Materials
Permissions for use
You are requesting permission to download a Townsend tool to your computer. All tools are protected by copyright laws and are property of the University of California. By downloading a Townsend tool, you agree to keep the original form unchanged. This means that you are not entitled to modify or use the photographs for any other purpose. In addition, all references and logos may not be altered in any way nor removed. You will need to print tools "as is".  In case of a doubt concerning your planned use of any Townsend tool or content (photographs, logo or survey questions), please contact us directly
Educator Materials
Overview + 5 Lessons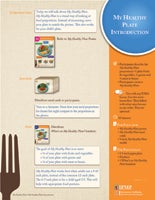 Participant Materials (English & Spanish)